Saxophones worth £140,000 stolen in three raids on Crowborough shop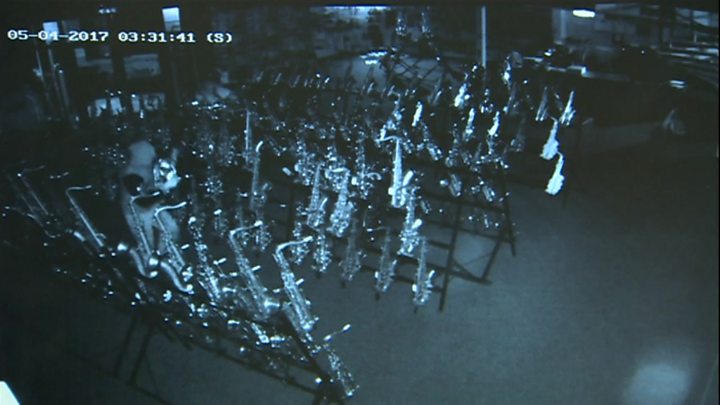 Saxophones worth more than £140,000 have been stolen from a family-run music shop during a spate of break-ins.
Sax.co.uk in Crowborough has been targeted three times in just six weeks.
On the first occasion, thieves stole £40,000 worth of instruments, on the second a rare saxophone with an unknown value was stolen and on Tuesday around £100,000 of goods were taken.
The shop's owner, Christine Straker, said it had "devastated" her and all the staff.
The business has been going a quarter of a century, with a base in the East Sussex town for around 11 years. It has never been targeted before.
Mrs Straker, 59, said: "Police have told me they believe this is the work of one organised criminal gang, and from the way they've broken in it's clear they know exactly what they are doing."
In the first break-in, between 17:00 GMT on 18 March and 14:00 on 19 March, the perpetrators did not even enter the building. They smashed through the front lobby and set up a rig and stand to manoeuvre out 32 soprano saxophones.
On the second occasion, at about 03:20 GMT on 3 March, they broke an upstairs window and set off the alarm, but managed to take one instrument before they left - a rare and irreplaceable Selmer limited edition.
Around 03:30 BST on Tuesday they spent an hour cutting a hole in the outside of the building before leaving with 44 alto saxophones.
CCTV is now being improved, stock has been moved and a police guard and dog are being stationed outside the shop.
A Sussex Police spokesman said it was possible the offenders were stealing items on demand.
"Due to the number stolen on each occasion it is also highly likely that they may be using a van to transport the items from the scene.
"We would urge anyone who has recently been offered saxophones for sale which may be without a case or reeds, or who was in the area at the time and may have seen something, to get in touch."