Darren Turk overturned sex abuse verdicts 'devastating'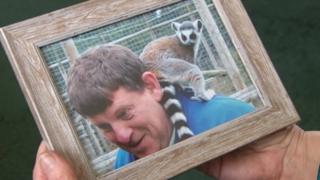 A mother whose son told a court about sexual abuse he suffered at his school has described a move to overturn a dead man's convictions as "devastating".
Darren Turk, a former care worker at Frewen College in Northiam, East Sussex, killed himself before jurors convicted him of 10 offences.
Appeal judges said the Lewes Crown Court verdicts were irregular but nothing suggested they were unsafe.
The woman, who cannot be named, said her son had been given a life sentence.
'Left with flashbacks'
She said: "This was not an appeal about clearing Darren Turk's name, it was about a point of law."
She added: "For us, as families, yes it's devastating because he escaped the justice that should have been brought for us."
The woman said her son was "extremely ill" and suffered from triggers that reminded him of Mr Turk and left him very frightened.
In the appeal court, Sir Brian Leveson said judges recognised that for the victims the trial verdicts were a vindication of their evidence, and he added: "Nothing we decide in any sense should be taken as removing their appropriate feelings of vindication."
But the mother of the pupil said: "We are suffering still and will do. We have a life sentence for our child and it will never go away."
The legal appeal was brought by Mr Turk's mother, Jasmine Botting, 76, of Etchingham, who said her son feared going to prison for something he hadn't done.
She said: "He was tormented for a long time. Because he knew he had done nothing."
And she added: "I'm just left feeling that Darren was literally hounded for years and he just couldn't cope anymore and it's so wrong - everything about it was so wrong."
Mr Turk was accused of offences against boys aged between 11 and 15 between 1996 and 2002.
The jury convicted him of 10 offences and cleared him of six.