Markwells Wood oil well plans withdrawn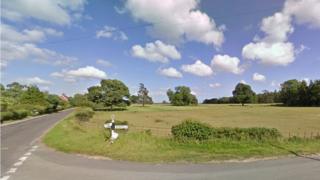 Plans to drill for oil in a national park have been put on hold.
UK Oil and Gas (UKOG) has withdrawn plans to drill four wells under the South Downs National Park at Markwells Wood near Chichester in West Sussex.
The company said it had "temporarily" withdrawn its planning application to gather more data and is intending to resubmit the application later in 2017.
The national park had earlier rejected UKOG's request to delay the planning committee hearing until July.
UKOG said the Environment Agency has requested more information on a groundwater risk assessment it had submitted as part of the planning application.
Emily Mott from the campaign anti-drilling group Markwells Wood Watch, said: "We are thrilled."
'Vulnerable region'
She said it was "obvious" the planning application would have been rejected without more information on the effect drilling could have on local water supplies.
"This is a very vulnerable region so that any kind of contamination or spill that happens here would affect the water supply quickly."
The planning application had been due to be heard by the South Downs National Park Authority on 11 May. Initially the company had wanted to delay the hearing until 13 July, but the park refused the request.
In a statement, UKOG said: "The application is now planned for re-submission later in 2017."
Stephen Sanderson, UKOG's executive chairman, said: "Given the potential sensitivity of the Markwells Wood site to the adjacent chalk groundwater system, it is in the public interest that this subject be investigated as thoroughly as possible."
He said UKOG's target of drilling at Markwells Wood by mid-2019 was "unlikely to be affected".
UKOG drilled a test well on the site in 2010 from which oil was produced.