Standen House lost arts and crafts garden restored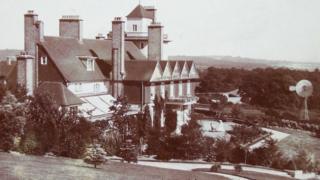 A lost garden has been uncovered at a National Trust property and restored to its original arts and crafts design.
The discovery of a family swimming pond at Standen House led to the start of a half a million pound revamp in 2012.
Arts and crafts architect Philip Webb designed the house in the late 19th Century for owner James Beale, whose wife Margaret created the garden.
The 12-acre gardens saw their heyday in the 1920s, but were later replanted and altered with original features removed.
Volunteers studied family photographs, maps and receipts, and Mrs Beale's diaries, to research how the garden would have looked.
Standen's head gardener James Masters said: "Our discoveries have included lost walls, a rock garden and rare and unusual plants - all overgrown by the vigorous modern planting that had masked the original beauty of Margaret Beale's design."
Restored features include the swimming pond that was found hidden by overgrown bamboo, a rose garden, lime trees along one walk, 10,000 tulips, espaliered apple trees and views opened from the top terrace to look over the Ashdown Forest.
An exhibition about the garden will open at the house near East Grinstead on Saturday.