Man held after 'gunman' seen near Worthing schools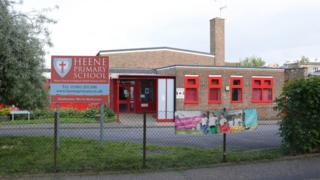 A man has been arrested after children and their parents were kept inside two primary schools following reports of a man with a firearm.
The man was reported to be carrying a firearm close to Victoria Park and Norfolk Street in Worthing just after 14.15 BST on Thursday.
A woman said she was shown a gun in a bag in Stoke Abbot Road at about 21:00.
A 36-year-old man from Worthing was arrested on suspicion of possessing an imitation firearm and is in custody.
"No threats were made and the [member of the public] raised concerns to police," a Sussex Police spokesman said.
After a search, St Mary's and Heene schools allowed children to be collected as normal.
Det Con Sebastian Day said: "The item seized from the suspect is described as a plastic imitation gun."