Final warning for PCSO after 'emaciated' Hastings woman dies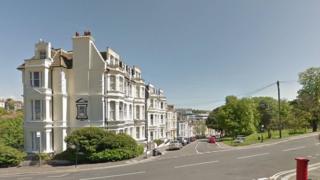 A PCSO who said he had no concerns about an "emaciated" pensioner, has been given a final written warning after she died the following day.
Cherry Madden, 64, from Hastings, East Sussex, was spotted in her living room by a concerned workman who told police her surroundings were "squalid".
The PCSO went to the flat and reported her to be "well presented".
The next day the workman was still worried, and phoned an ambulance and police, but Ms Madden was already dead.
The Independent Police Complaints Commission (IPCC) launched an investigation and found the actions of the PCSO, who Sussex Police and the IPCC have chosen not to name, constituted gross misconduct.
The workman, who was carrying out repairs on the building at the time, said during a hearing on Friday that Ms Madden "looked emaciated and appeared to be living within the confines of her living room" in Cornwallis Gardens.
'Unconcerned'
He said she was not properly dressed and alerted Sussex Police.
Later that afternoon on 18 August 2016 the PCSO conducted a welfare check.
He knocked on the living room window and said he saw Ms Madden "react".
He said he was "unconcerned by the condition of her surroundings".
A post-mortem concluded she had died early the following day.
The PCSO will not be eligible for any pay increases in the next 18 months, and should he transgress during that time he is likely to be sacked.