Second search at Seaford Head after further cliff fall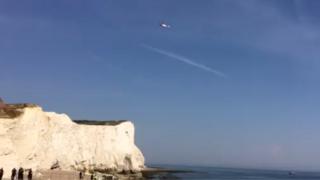 Coastguards have carried out a further search-and-rescue operation after receiving reports of a second cliff fall at Seaford Head in East Sussex.
Beach-users were warned to keep away from the cliff and coastguards issued an urgent appeal about a woman seen there.
They said they had to establish everyone was safe and no-one was missing after conflicting 999 calls.
On Wednesday, about 50,000 tonnes of cliff fell on to the rocks below.
Emergency teams originally said a female in a pink top was seen at the second cliff fall and appealed to her to "please call 999 and ask for the coastguard to let them know you're OK".
However, following a search the coastguard said "nothing untoward" had been found and search teams had since been stood down.
'Continual erosion'
The coastguard said the 262ft (80m) high cliff was unstable and the scale of the recent fall was unclear.
Maritime and Coastguard Agency spokesman Mark Rodway said: "We have thoroughly searched the area as a precautionary measure, with a multitude of assets and nothing untoward has been found.
"We have now stood the teams down and unless we receive any further information there are no plans to resume this search tonight.
"We are still advising people to stay away from the Seaford cliff area as it is not safe."
Mr Rodway urged walkers to keep back from the edge of cliffs and to use designated paths.
"It's very clear that cliffs are unstable in places... there is no 'safe' place to be," he said.
"When standing at the bottom of the cliff, we would always advise people that they shouldn't stand less than the height of the cliff away.
"That means if the cliff is 25 metres high, don't go closer than 25 metres towards it.
"Don't be tempted to go and investigate recent falls and don't risk going to the edge to get a dramatic photo."
On Wednesday, search and rescue teams spent several hours scouring the area beneath the cliff to ensure there were no injuries after emergency services received "multiple 999 calls" at about 16:00 BST.
The UK Coastguard search-and-rescue helicopter was stood down at about 17:30 and the Maritime and Coastguard Agency later confirmed the search had ended.