Signs of oil found at Broadford Bridge test drilling site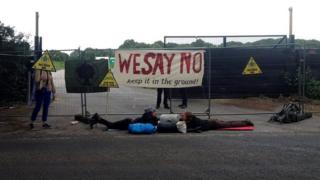 Some evidence of oil deposits has been found at a test drilling site in West Sussex, an energy company says.
UKOG said the sample was taken from a depth of about 4,000ft (1,200m) at Broadford Bridge, near Billingshurst.
Engineers said it had been observed "seeping from open natural fractures in Kimmeridge Limestone" and was "heavily oil stained" with a "strong oil odour".
The sample will now be sent for "extensive geological, petrophysical and geo-mechanical analyses".
Earlier this month, two protesters fixed themselves to a concrete block at the gates of the site over fears the test drilling would lead to fracking.
The firm is also test drilling at Horse Hill, near Gatwick.