Lorry crashes into Ansty house after collision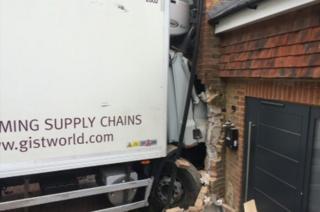 A motorist was seriously injured in a crash involving a lorry and two cars.
The lorry then crashed into a house in Bolney Road, Ansty, West Sussex. The cottage's occupants were unhurt, but the building has structural damage.
A 72-year-old man who was driving a VW sustained serious injuries. The other drivers were also taken to hospital.
The A272 Bolney Road was closed at the junction with Bishops Lane and Pickwell Lane until the early hours, following the crash on Saturday afternoon.
Ricky, the owner of the property - who did not want to give his full name - told the BBC he had only just finished renovating the house.
"We started in September and finished it on Saturday morning, and now we've got to start all over again.
"The downstairs is wrecked and the front top room is also damaged."
He said his wife's grandparents, who are in their 90s, were in the property at the time and were very "shaken up".
"Luckily they managed to get out... a few cuts and bruises but otherwise OK," he said.