Shoreham air crash: Worthing footballers honoured by club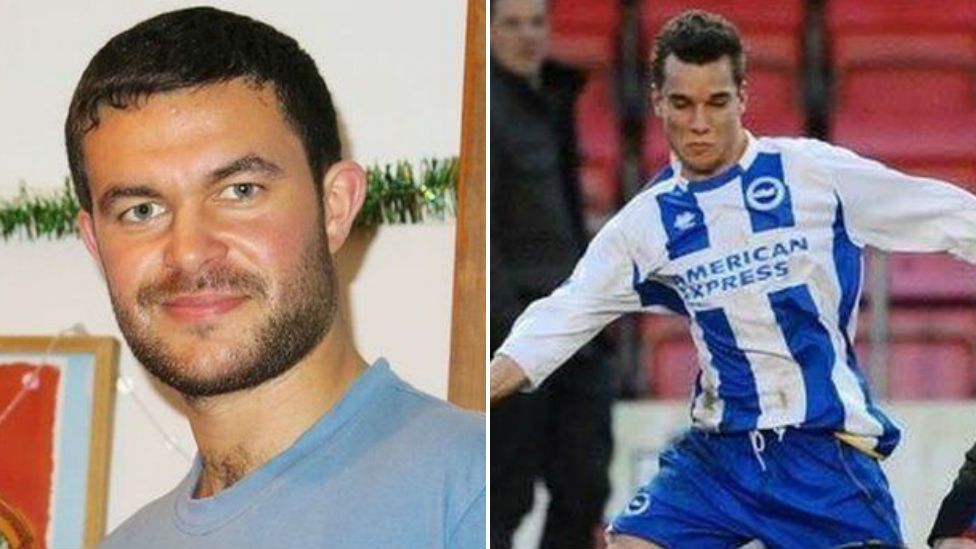 A football club has named a stand and memorial garden after two players killed in the Shoreham air crash.
A Hawker Hunter jet crashed on the A27 in Sussex during the Shoreham Air Show on 22 August 2015 killing 11 men and injuring another 13 people.
Matthew Grimstone, 23, and Jacob Schilt, 23, both played for Worthing United Football Club.
The club unveiled the stand on Sunday and held a series of matches to help raise money for its memorial fund.
The stand and garden will also be a memorial to former player Matt Chaplain who died aged 38 from a cardiac arrest and Malcolm Gamlen, the club's secretary for 20 years. Both died in 2013.
Steve Taylor, chairman of Worthing United, said: "It's wonderful to see this memorial unveiled and in place to remember three of our own.
"It's taken hard work and dedication but we are delighted to express our memories in this way."
In 2016, Worthing broke the World Record for the longest continuous football match in memory of the men.
Half the money raised from the 108 hours of play went to the British Heart Foundation, the rest was donated towards the cost of the stand.
It is hoped the money raised from the memorial games on Sunday will help finish the stand and equip it with a speaker system.
On Tuesday, Worthing United FC will play Shoreham FC in a local derby. The teams have a close relationship and Mr Chaplain played for both sides over the years.
Pilot Andy Hill had been taking part in the air show when his jet crashed on to the A27.