Lewes Prison officers smuggled drugs in Pringles tubes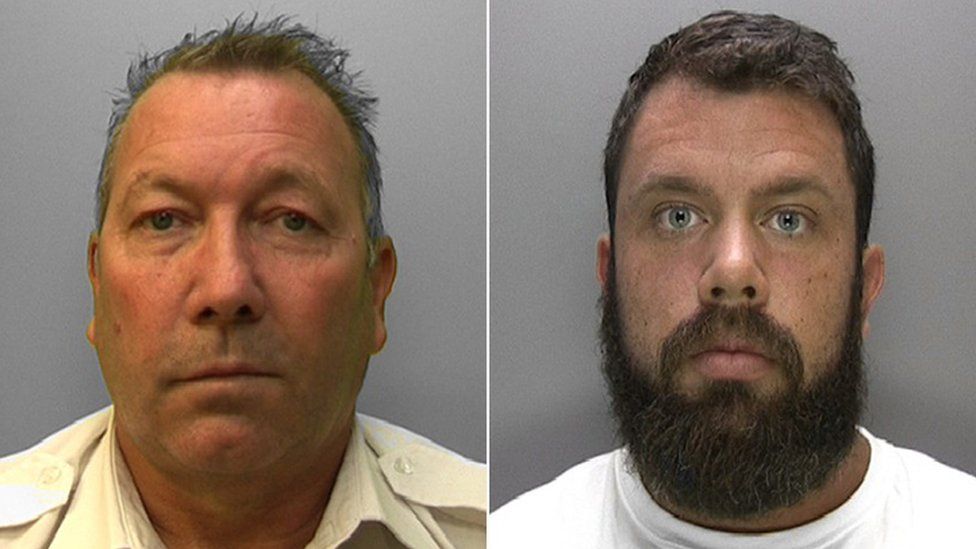 Two prison officers have been jailed for conspiring to smuggle drugs and mobile phones into Lewes Prison.
Ricky Bridger, 54, and Simon Taylor, 28, hid the goods inside Pringles tubes and were sentenced at Lewes Crown Court to 10 and eight years respectively.
Prisoners Simon Khalil and Dorian Henry, the principal organisers amongst the inmates, pleaded guilty previously.
They were both jailed for three years, but the operation also included other inmates and partners on the outside.
Andrew Frymann, prosecuting, told the court a cocker spaniel search dog sniffed out the contraband, which was kept in the prison's gym, in April 2015.
He said a basic mobile phone could fetch more than £200 behind bars because goods sell for around four times the market rate.
After the initial find of steroids and a SIM card, Bridger - a former champion bodybuilder - was stopped and searched.
Bridger, of The Oaks, Heathfield, and Taylor, of Wesy Way, Wick, were being paid £1,000 per consignment, and Judge Paul Tain said they had "fundamentally breached" their obligations as officers.
Clockwise from top left: Bridger, Taylor, Burdfield, Penton, Sallis, Khalil, Henry
Mr Frymann said Bridger was "cocky and dismissive of colleagues and police who stopped and searched him, but when told that his car was to be searched he was noted to quieten considerably and to lose the colour from his face".
Inside his car was another Pringles tube containing over £4,000 of contraband including 7g of high purity cocaine, skunk cannabis, Spice, and a mobile phone and accessories.
Bridger was found to have received over £15,000 of cash deposits which the prosecution said represent only part of his payments, with the rest of his illicit gains disguised "by buying vehicles with cash and paying for his Waitrose shopping in cash".
Each consignment was organised and readied by others both in and outside the prison.
Khalil, 34, and his partner Katie Rudd, 26, and inmates Henry, 26, Daniel Sallis, 30, and Darren Burdfield, 33, had all been in contact to arrange a drop of cash and prohibited items to Bridger.
Inmates Burdfield and Sallis were both sentenced to five years
Simon Penton, 45, an inmate working at the prison's gym, was sentenced to three years
Rudd was handed a two-year sentence, suspended for two years
Burdfield's partner Sarah Hall, 32, was sentenced to one year, suspended for two years
Burdfield's mother Sabrina Burdfield, 61, was sentenced to one year, suspended for two years
The jury couldn't reach a verdict in the case of Dorian Henry's sister Danielle Henry, 34, and the prosecution are applying for a re-trial
Inmates already serving time will have the sentences added on consecutively, while Taylor and Bridger will be incarcerated in Belmarsh prison.
Related Internet Links
The BBC is not responsible for the content of external sites.