Father spared jail over Northern Cyprus abduction plot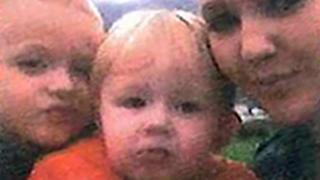 A father who was caught up in a plot to abduct his young son and defy a court order has been spared jail.
Jason Warnes was handed a three-year conditional discharge after admitting his role in keeping his young son Kaiton in northern Cyprus in 2014.
Social services got involved when his wife Amelia Warnes, of Eastbourne, East Sussex, stabbed Warnes in the stomach.
Unbeknown to him she - with her parents Lita and Jon Clift - concocted a plan to flee Britain.
'Over a barrel'
Judge Sarah Munro, sitting at the Old Bailey, heard how ten days after getting married in 2013, Warnes, 28, had to be airlifted to hospital with life-threatening stab injuries.
In evidence, Warnes, of Bexhill-on-Sea in Essex, said he initially told police it was the result of a play fight and in 2014 they went on a family holiday.
But a week into the break he learned of the plan for it to become a permanent stay.
Mrs Warnes threatened that he would never see his four-year-old son again if he returned to the UK.
Warnes gave himself up to police at the end of 2016 but the whereabouts of Mrs Warnes - also referred to in court as Amelia Clift - and Kaiton remains unknown.
Sentencing Warnes, Judge Munro said: "In a sense, the Clift family had you over a barrel. You were in a very difficult position."
Also embroiled in the plot and missing is Kaiton's older half-brother Charlie Clift, six, whose father is Dominic Burt.
The Old Bailey heard a family court ruling giving Mr Burt custody of his son instigated the conspiracy.
The judge added: "There are two fathers in this court today, both of which have been very severely affected by a mother and her actions.
"If anything good is to come out of all of this, let it be that you two can work together and secure the return of your two boys."
In March 2015, Mr and Mrs Clift, of St Leonards, East Sussex, were convicted of "conspiracy to abduct" by a jury at Lewes Crown Court and given suspended prison sentences.