Shoreham boat sinking: Romanian man named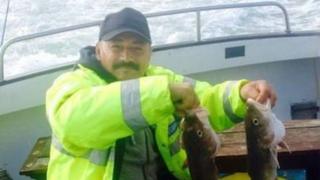 A man who died when a pleasure fishing boat sank off the West Sussex coast has been named as Traiam Dumitrache.
The 50-year-old Romanian national from London was one of four men in the vessel which foundered near Shoreham early on Sunday morning.
One crew member was rescued after clinging on to a buoy for several hours. Two others are still missing.
The boat is thought to have collided with the scallop dredger Vertrouwen, which was bound for Grimsby.
The Vertrouwen had left from Shoreham shortly before the collision, Sussex Police said.
"Police are now in touch with the owners, MacDuff Shellfish Ltd, who are co-operating fully with the investigation." a police spokesman said.
The small boat with four pleasure fishermen on board left Shoreham Harbour at around midnight.
It collided with the larger boat at about 00:30 BST and sank before a distress call could be made.
The sole survivor was rescued by a commercial fisherman after clinging on to the buoy for more than five hours.
Mr Dumitrache's body was recovered by a coastguard helicopter on Sunday morning.
The Marine Accident Investigation Branch is examining what happened.