Shoreham air crash remembered on second anniversary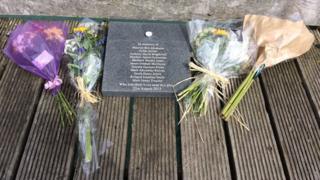 Flowers have been laid close to the scene of the Shoreham air crash in which 11 men died, two years ago.
Among those visiting a memorial stone to the victims on the Toll Bridge was the mother of Richard Smith, 26, who died while on a cycling trip.
She told BBC South East the crash "has ruined our lives" and it was the first time she had felt able to visit since it happened on 22 August 2015.
Families held a two-minute silence and a short service on the bridge.
Giovanna Chirico, whose fiancé Mark Trussler was another of the victims, said she was still heartbroken.
"Everyone tells you it gets easier. But it doesn't," she added.
A remembrance service was also held at a local church. The congregation at the Church of the Good Shepherd remembered the victims in prayers and lit candles.
Tanya Hewstone, the former partner of Daniele Polito and mother of his young son Georgio, said the anniversary was a "majorly difficult day".
"It's always breathtaking to hear his name read out. To know that he's not here is hard," she said.
Live: More on this story and other news from Sussex
Worthing United Football Club, which lost two of its players in the tragedy, marked the second anniversary with a minute's silence before its away game at Horsham YMCA on Tuesday evening.
Players wore black armbands during the match in memory of Jacob Schilt and Matthew Grimstone.
The two 23-year-old footballers had been travelling to a Worthing game when they were killed.
Jacob Schilt's father, Bob, said: "I don't expect closure but the inquest and any possible trial is important. But it's always being delayed."
Shoreham air crash: The victims
The vintage Hawker Hunter jet crashed on to traffic on the A27 during the Shoreham Air Show at 13:22.
A further 13 people, including the pilot Andy Hill, were injured.
Mr Hill, 52, from Hertfordshire, has been the subject of a manslaughter investigation by Sussex Police.
In its final report on the disaster earlier this year, the Air Accidents Investigation Branch (AAIB) listed a series of failings including poor risk assessments.
Investigators said the jet crashed in a fireball because it was too low to perform an aerobatic manoeuvre.