Ozone level 'spiked during Birling Gap chemical mist'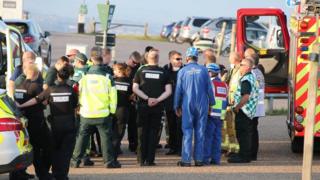 Ozone levels spiked at about the time a cloud of an unknown gas triggered a chemical alert on the Sussex coast, an expert has said.
Andrew Grieve, of King's College London, said two air quality monitoring stations recorded a "sudden jump".
Coastguards and the Environment Agency are continuing to investigate.
The "mist", released at Birling Gap on Sunday, left 150 people in need of hospital treatment. Police said the gas had now dissipated.
Ozone is produced as the sun acted on traffic and industrial emissions, Mr Grieve explained, but did not speculate on what might have caused the spike.
The beach at Birling Gap was evacuated after people reported breathing difficulties, stinging eyes and vomiting - hundreds more people were affected in addition to those who needed hospital treatment.
Mr Grieve, senior air quality analyst, said nearby monitoring stations at Eastbourne and Lullington Heath registered an unusual spike in ozone from about 50 to 260 microgrammes at about 16:15 BST on Sunday.
"That just doesn't normally happen," he said
He said ozone normally showed a gradual rise during the day, and a "dropping off" at sunset.
Mr Grieve also said ozone was formed in the atmosphere and not directly emitted from anywhere, so the findings were "a piece of the puzzle but not all of the puzzle".
Air quality experts would spend this week working out where the air had come from, along with its path, speed and height to gather more information, he added.
Richard O'Callaghan, duty manager at the Environment Agency, said "potential onshore sources of the pollution" were being investigated.
"To date we have not identified anything that could be attributed to the mist.
"We are liaising with the Maritime and Coastguard Agency who are doing similar investigations offshore."
A Sussex Police spokeswoman added that the "cloud has now dissipated".
Anyone still suffering from the effects is advised first to irrigate their eyes and wash irritated areas. People who then still feel ill are advised to contact 111 advice and only visit A&E if they are suffering significant effects.