Sussex chemical 'mist': Calls for EU investigation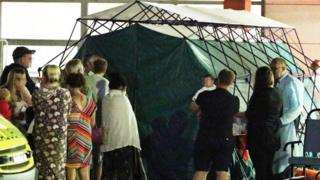 Calls for an EU probe into the cause of a chemical "mist" that left 150 people needing hospital treatment have come from the Green Party.
South East MEP Keith Taylor said the EU Commission should investigate urgently because of its access to satellite information on European waters.
The Environment Agency and Maritime and Coastal Agency (MCA) have said their investigations will take time.
Birling Gap beach, Sussex, was evacuated on Sunday.
Hundreds of people reported breathing difficulties, stinging eyes and vomiting.
Mr Taylor said: "We need to know what it was, where it came from, any long-term health impacts - and we need to see where any legal responsibility lay."
Calling for an EU investigation to complement work in the UK, he said: "Even if we find the same information as the MCA, at least we have got more people looking at it.
"We can't have a situation where 150 people go out for a nice day by the beach and end up at A&E."
'Public want answers'
Eastbourne's Liberal Democrat MP Stephen Lloyd and the borough council have also said it is "vital" to identify the gas to avoid any repetition of the incident.
East Sussex fire service said monitoring equipment was used in the immediate area on Sunday, but did not result in sufficient readings to conclusively identify the gas, which made it more difficult to discover where it came from.
The Environment Agency is investigating potential onshore sources of the pollution and liaising with the MCA, which is investigating offshore.
In a statement, the agencies said: "It is understandable that the public want answers, however all agencies involved ask that investigators are given time to carry out their work rather than speculate on possible causes."