Hastings 'could benefit' as £500m harbour unveiled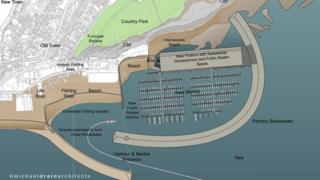 A £500m plan to build a harbour in Hastings Old Town and more than 1,000 new homes could bring "significant benefits" to the Sussex seaside town, the council has said.
Hastings council said the scheme by Hastings Harbour Quarter Ltd could bring an annual economic boost of £26m.
Developers have said it could also bring 1,000 new jobs.
But reactions on social media predicted traffic problems, gentrification, and the loss of the "heart of Hastings".
The council's Labour leader Peter Chowney said it could bring much-needed social housing.
He said a harbour had been proposed for Hastings about 100 years ago and part of a harbour arm was constructed.
The new development could see the harbour arm completed and provide a protected beach for the fishing fleet to launch from.
The council said the scheme included a marina, about 1,000 to 1,300 homes and transport improvements.
Mr Chowney said the authority now wanted to test public opinion.
Andrew Doyle, from the developers, described the scheme as a "catalyst development" to see how a seaside town could be regenerated.
He said: "Hastings has come a long way in the last few years. There have been very significant developments there already, but there's a long journey still to go through."
Amber Rudd, Conservative MP for Hastings, said the scheme could deliver fantastic opportunities, but she said: "We must make sure that this development is in the best interests of our community."