'Slim chance of prosecuting' Gatwick Airport parking firm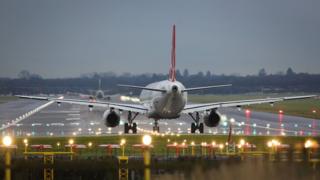 A man wanted for questioning after a Gatwick parking company left holidaymakers stranded without their cars is thought to have left the UK.
Trading Standards now believes there is little chance of prosecuting director of Gatwick First Parking Umar Irshad.
Sussex Police found 120 vehicles at various sites in Sussex and Surrey after the company ceased trading.
"There is a very slim chance for us to pursue any action," Richard Sargeant of West Sussex Trading Standards said.
The company was not approved by Gatwick Airport.
Trading Standards believes Mr Irshad has travelled to Pakistan, forcing the consumer watchdog to put its investigation on hold.
One customer, Libby Augustin, along with her husband and two young children, had to find another way to get from the airport when they were unable to get hold of the company on returning from their travels.
She told BBC South East Today: "I was really upset because of the dishonesty."
In a similar case last year, more than 1,000 vehicles were found "parked" in a boggy field by five companies near Gatwick Airport.
West Sussex Trading Standards has suggested a mandatory licensing scheme for airport parking companies might be a solution.
But aviation consultant Chris Tarry said: "It is possible to license somebody on historic behaviour but you need a system, they need history, and it has to be enforced.
"And the issue is how you enforce it when it all goes wrong."