HIV Brighton hairdresser 'pressured man into sex'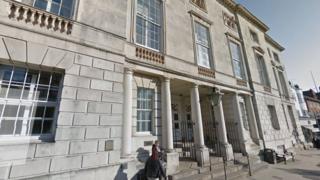 A man who says he was deliberately infected with HIV by a Brighton hairdresser felt "pressured" into having sex, a court has been told.
Hairdresser Daryll Rowe is accused of telling partners he was virus-free and then insisting on unprotected sex.
In a video statement to Lewes Crown Court, the man said he felt he was starting a relationship with Mr Rowe.
He said he later received a text from Mr Rowe saying: "Maybe you have the fever... I have HIV LOL."
Mr Rowe, from Brighton, denies infecting four men with the virus.
He also denies attempting to infect a further six men in the Brighton area between October 2015 and December 2016.
'Ripped condom'
In his taped police interview, the complainant said: "He asked for sex and I gave him oral sex. He asked for more and I said no and he started to get angry.
"I felt like we had to do it. So we did."
The two men had unprotected sex in a car but stopped when a cyclist rode past.
Mr Rowe then wanted them to continue but the alleged victim said he did not.
When the complainant drove him home, Mr Rowe refused to get out of the car and tried to bully him into having sex behind some bins, the court heard.
"It felt like an hour with him just going on and on. I felt very vulnerable," he said.
A second complainant, an American man, also said Mr Rowe aggressively demanded unprotected sex but he insisted on a condom.
He said Mr Rowe's messages became aggressive, so he blocked the number.
He said Mr Rowe called him on a withheld number and said: "I ripped the condom, you're so stupid you don't even know. You may have it. Burn."
A few months later the American was diagnosed as HIV positive.
The four men Mr Rowe is accused of infecting with HIV all had very similar strains to the one he was infected with, making it highly likely he was the source of the virus, the court heard.
The trial continues.