Police probe 'cleaning fluid' death at Royal Sussex County Hospital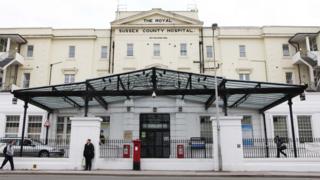 Police are investigating a hospital after an elderly woman is understood to have swallowed cleaning fluid and died.
The 85-year-old patient died at the Royal Sussex County Hospital in Brighton on 23 September.
The Brighton and Sussex University Hospitals NHS Trust, Care Quality Commission (CQC) and Sussex Police are investigating.
A Sussex Police spokesman said: "The death has been referred to the coroner and at this stage remains unexplained."
Amanda Stanford, head of hospital inspections at the CQC, said: "We are aware of the death of a patient at Royal Sussex Hospital and our thoughts are with family and friends at this distressing time.
"We can confirm that CQC are currently looking into this and working closely with other stakeholders including Sussex Police. We will report our findings in due course.
"We believe that everyone has a right to consistent, safe, high-quality care."
Gary Palmer, GMB union regional organiser, said: "I'm shocked of course that such an incident has happened, but I'm not surprised.
"We've had a lot of staff come to us and say they are stretched to capacity, the trust is under-resourced and nobody gets to stay in one place working, they are moved around the trust at will to plug gaps."
The trust was contacted, but declined to comment.