West Sussex council posts vulnerable people's details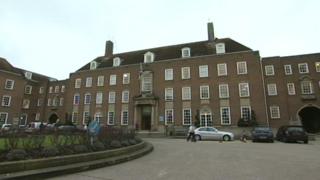 Personal details of at least 1,400 carers, foster carers and disabled people have been published online in error by a council.
The information published by West Sussex County Council (WSCC) has been available online for seven years.
The council releases details of any payment it makes over £100 but should have removed details concerning vulnerable people and their carers.
WSCC said an investigation is under way.
The Information Commissioner's Office has been informed and is also investigating.
Payment amounts
Local authorities are required to publish details of any payment over £500 but WSCC reduced its threshold to £100.
Its inconsistent redaction dates back to when publication of these payments started in 2010.
The mistake was first spotted by data scientist Andrew Rowson on 20 September. He told the BBC he informed WSCC but the authority admitted it had taken almost 29 hours to take down the information.
The council said: "It's unlikely that individuals could be identified from the limited data available.
"Although the spreadsheet contained transaction numbers and payment amounts, the only personal details recorded were names and this was mainly limited to initials and surnames."
Identify individuals
However, BBC Sussex found many examples of full names being published and further information that could identify other people, such as partners or children, living at the addresses of those named.
The BBC picked a selection of 30 names from the list and in every case was able to identify just one person living in West Sussex with that name. The BBC was then able to obtain their address, sometimes their phone number and other information about their financial affairs.
When this was put to the council, it said: "We accept that people seeking to identify individuals could do so in some cases by making additional checks through other data sources."