Daryll Rowe trial: HIV charity worker 'deliberately infected'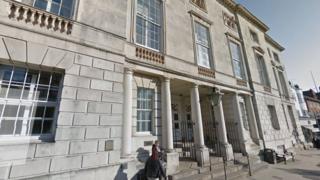 An HIV charity worker became infected with the virus despite taking all necessary precautions, a court heard.
Lewes Crown Court heard the man became HIV positive after having sex with Daryll Rowe despite using a condom.
Mr Rowe, 26, denies infecting five Brighton-based men with the virus, and attempting to give it to a further five.
The alleged victim said Mr Rowe texted saying he would "rape" him the next time they met.
The pair initially met for causal sex using the gay dating app Grindr and the charity worker "ensured" Mr Rowe wore a condom. It was something he would "always check", the court heard.
But a few weeks later, the alleged victim began to experience HIV symptoms.
'Life is over'
When he learned he was positive, he said: "This is impossible. I haven't had any unprotected sex.
"I've never felt that way before. It's like being hit by a bus - you feel like your life is over."
When he tracked Mr Rowe him down to tell him about his diagnosis, Mr Rowe's "blasé" reaction made him suspect he either deliberately removed, or damaged the condom, the court heard.
Mr Rowe told the complainant "not to be so dramatic" about his diagnosis and said he still wanted to meet up for "raw... bareback" sex and to "rape" him.
When the alleged victim declined to meet again, Rowe replied: "Moaning and thinking about it all the time won't help or cure you."
The complainant went to the police after seeing an appeal for former partners of a young Scottish man deliberately infecting his partners with HIV.
The trial continues.