Two men arrested after assault outside St Leonards-on-Sea school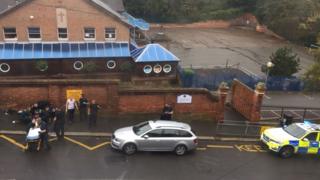 Two men have been arrested on suspicion of grievous bodily harm after a brawl near a school in St Leonards-on-Sea.
The men, 22 and 23, from south London, have been released under investigation.
The assault victim, whose identity is unknown, is suspected of stabbing another man during the fight outside Christ Church Primary School on Monday, Sussex Police said.
Officers were called to Woodland Vale Road, at 11:30 BST after a man was found with multiple stab wounds.
He was taken to Conquest Hospital in a serious condition and is now stable.
Sussex Police is searching for another man involved in the assault and are appealing for information from witnesses.
The school's calendar says it is currently closed for half term. The BBC was unable to contact anyone for comment.