HIV hairdresser Daryll Rowe told victim 'I'm riddled'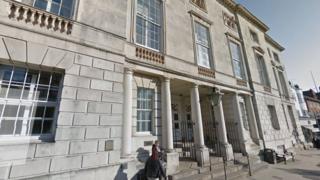 A hairdresser accused of deliberately infecting other men with HIV told one victim he was "riddled" with the virus after they had sex, a court heard.
Daryll Rowe, 26, denies infecting five Brighton-based men, and attempting to infect a further five.
Giving evidence at Lewes Crown Court, a 22-year-old student said he met Mr Rowe via a dating app in January 2016.
He said he started "freaking out" when he found a broken condom in the bathroom after they had sex.
In a video recording of a police interview shown to the jury, the man said he was in pain after having sex with Mr Rowe and was later given anti-viral drugs to prevent him contracting HIV as well as treatment for genital herpes.
'Overdramatic fool'
During the interview, the man said: "I remember not really enjoying it. There were moments when I was like, I want to get up and go.
"Afterwards I went to the toilet and the condom was on the sink and I noticed that it... was completely broken. Like the whole top of it was off."
A series of text messages read to the court, the university student repeatedly asked Mr Rowe whether he had HIV.
In response Mr Rowe is alleged to have said: "Yes, I'm riddled by the way".
Later, Mr Rowe branded the man a "paranoid, overdramatic fool", before saying he would be blocking the number, the court heard.
The student, who cannot be named for legal reasons, contacted police after seeing a witness appeal for information about a man he thought was Mr Rowe.