Lewes bonfire festivities attended by thousands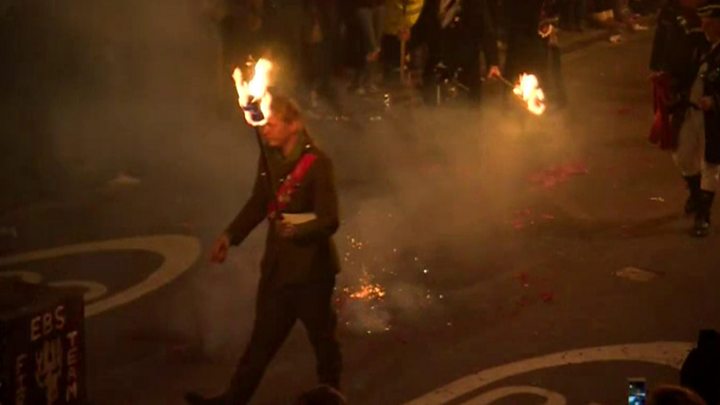 Tens of thousands of people joined bonfire celebrations in the East Sussex town of Lewes, despite measures to lower attendance.
People had been warned by police not to go unless they were from the town.
Roads were closed hours before the start of event, and train services were suspended within a five-mile radius.
Sussex Police said about 80 people were treated for injuries, mostly minor. Officers made five arrests and issued three dispersal orders by 01:30 GMT.
Ch Supt Neil Honnor said the arrests were for drink-driving, failing to comply with a dispersal order, possession of a knife and an assault.
Police said it was thought about 60,000 people had attended the event.
The force did say crowd numbers were an estimate because there was no official count.
But Ch Supt Honnor said: "That's far too many for crowd safety purposes."
Before the event, one of the groups involved agreed to tone down its costumes, after the leader of dance troupe Zulu Tradition, booked to perform at this year's event, said they were "incredibly offensive".
Members of Lewes Borough Bonfire Society traditionally wear black face paint and extravagant accessories for the parade.
Some locals have backed the group, commenting the tradition of painting faces had been going on for years.