Joan Blaber inquest after 'cleaning fluid death'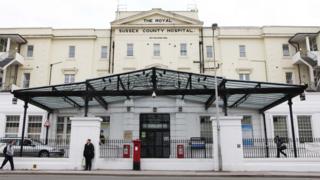 An 85-year-old woman, believed to have died after drinking cleaning fluid she thought was orange juice, has been identified.
Joan Blaber died at Brighton's Royal Sussex County Hospital on 23 September.
Her family believe her death was a "tragic mistake" and the hospital trust, Care Quality Commission and Sussex Police are investigating.
An inquest into her death was opened and adjourned on Tuesday.
'Fluid from a bottle'
Speaking afterwards the family's solicitor Mr Austen-Jones, of Healys LLP, said: "It is hoped the inquest will lead to a thorough investigation into the circumstances of what happened and an explanation as to how such a tragic mistake can have occurred in modern day healthcare."
Geoffrey Bowden, director of Healthwatch Brighton and Hove said: "Any death on a ward that is unexplained is extremely concerning, it is a desperate situation for this lady's family.
"My understanding is the unfortunate lady drank some fluid from a bottle which she mistook for orange juice but it turned out to be cleaning fluid.
"Certainly there are protocols in place where these sort of things should not happen on a ward and we will be looking at this very carefully. If there are things that have gone wrong because of a systemic failure in the protocols, we want to know about that."
A spokesman for the Brighton and Sussex University Hospitals NHS Trust said: "Our thoughts are with Joan's family.
"With the ongoing police investigation, we are unable to comment further at this stage."