Mammoth 'family' fails to sell at auction in West Sussex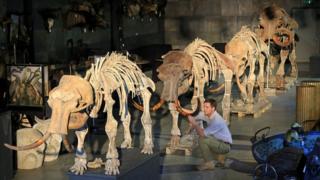 A "family" of ancient mammoth skeletons found buried together has failed to sell at auction.
The auction house in Billingshurst, West Sussex, said the group included a rare one-year-old baby male and a young female of around eight or nine.
The Ice Age bones were unearthed near Tomsk, Siberia, in 2002.
It was hoped they would be bought by a museum and were expected to fetch up to £400,000 but only reached £240,000 Summers Place auctions said.
It claimed it was the first time a mammoth "family" had been offered for sale together and said it would continue to invite offers for the remains.
The mammoths - the largest of which is 7ft 10 in (2.4m) tall - most probably died around 12,000 to 16,000 years ago, it added.
Natural disaster
Errol Fuller, curator at Summers Place, said: "Sadly, although there had been interest, none of the museums had managed to get the required funding in time and felt they were unable to bid."
He said they wanted to keep the family together but if they do not sell as a group, the vendor may consider selling them individually.
Rupert van der Werff, a Summers Place natural history specialist, said the bones originally arrived in 16 boxes and assembling was like "doing a rather difficult 3D puzzle".
In its catalogue, the auction house said the way they were found suggested "their demise was a rapid event and they were together before being overwhelmed by a cataclysmic disaster".