Explosive acid 'made safe' at Uckfield warehouse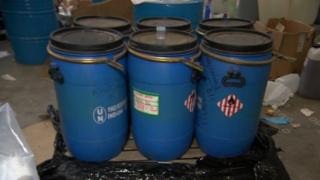 Experts have taken action to make safe barrels of an explosive acid, owned by a defunct pharmaceutical firm, that were found at a warehouse.
About 300kg of picric acid was found at the unit near Uckfield after Acquascience went into administration.
Environment consultant Andy Smith said water had been added to the acid and it would be destroyed.
Chemicals were also found at two other sites. Ex-company boss Edward Clayson said the landlords are now responsible.
After visiting the site near Uckfield, Mr Smith said: "The picric acid which we were concerned about is rather too dry for us to be happy with, so we're now adding water to it to moisten it up to bring it up to a suitable percentage level of moisture."
He said once the water had soaked in, the material could be destroyed.
BBC South East's environment correspondent Yvette Austin said it had been estimated the cost of the cleanup could be hundreds of thousands of pounds, and the bill for clearing the site at Uckfield alone had reached tens of thousands of pounds.
The Environment Agency and company administrator have said the site owners are responsible for removing the chemicals, but the landlords have said Acquascience should pay.
Company administrator Richard Keley said: "It is the responsibility of the landowners to deal with. They may then have a claim in the administration estate for the costs that have been incurred."