St Leonards stabbing victim 'knew he was going to die'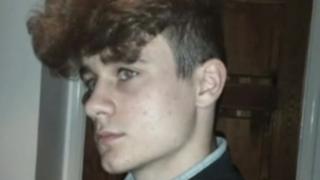 A stabbed teenager told a good Samaritan "I'm going to die" as he lay on the ground, his father has said.
Connor Ansell, 16, was stabbed in Old Church Road, St Leonards, at about 18:50 GMT on 18 November. He died in hospital six days later.
His father Trevor Ansell said he was numb, and that trying to cope with his son's death "kills" him.
He said the attack was "unforgivable", and those responsible had no idea what damage they had done.
Conner was left in a critical condition after being stabbed in the stomach.
The St Leonards Academy pupil was taken to hospital for surgery but died on Friday after life support machine was removed.
Mr Ansell, who lives in Bournemouth, said: "To picture that - he was lying there in pain and saying the words 'I'm going to die'. There was a lady that comforted him and I wish that I was there to do that, but I wasn't.
"I always think of him, the memories we had were the best in the world."
A 16-year-old boy and an 18-year-old man were charged with grievous bodily harm with intent.
They are due to appear at Lewes Crown Court on 18 December.