Hove family 'spent £10,000' on Christmas lights display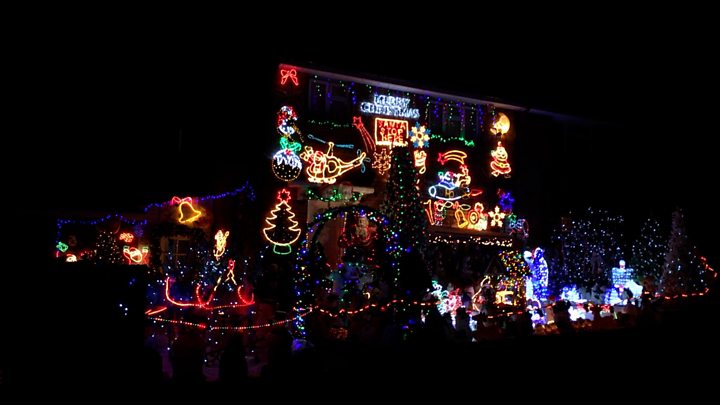 A "Christmas mad" family say they have spent at least £10,000 on their 30,000-light Christmas display.
The Farnes family's display in Amberley Drive, Hove, Sussex, includes more than 30 Santas, 30 snowmen, a North Pole scene and "waterfall of light".
Michael Farnes said: "I've always been mad about Christmas, and if anyone knows me, I am always happy."
Coach-loads of people come to see the lights and school bus drivers take detours to show them to the children.
The display cost £1,000 this year, and a least £10,000 for around the lights amassed over the previous 16 years, the family estimates.
Mr Farnes said: "This is my enjoyment in life, money is no object. We both work full time and we don't go without. If I want a Christmas decoration, I'll get a Christmas decoration."
He said his neighbours "all love it".
"We do have the odd adult who comes by and says it's tacky.
"But we're not doing it for the adults, we're doing it for the children. They all love it, 100%. And that's what it's all about."
---
How much is the electricity bill?
The lights are switched on for two to three hours every night in the run up to Christmas and in past years it has cost the family in excess of £200 each year.
But recently, with the increase in LED energy saving bulbs, they estimate it will be closer to £100-£150.
---
The couple have three children aged 25, 18 and eight. The youngest, Ronnie, is known in her school as the "Christmas girl" and says she is pleased with the nickname.
Mrs Farnes said: "It does drive me nuts when I wake up in the morning to Mike preparing his Christmas music. It does take over your life, but it's just something we've all lived to accept. I know this is what Mike does. It keeps him busy,"
Michael has promised to keep the tradition going for "as long as the children still enjoy it" and is already planning for next year.