Petition fails to halt East Sussex council's 'Get a Grip' campaign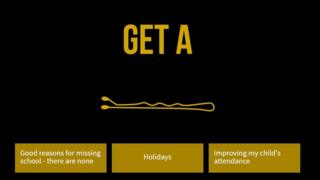 A campaign telling parents to send children to school if they have colds will continue despite more than 11,000 parents calling for it to be withdrawn.
Leaflets were sent in East Sussex County Council's "Get a Grip" drive to parents whose children missed at least three days of the current school year.
An online petition by parents called the campaign "offensive" and gained enough signatures to trigger a debate.
But Councillor Godfrey Daniel insisted: "If it upsets a few people that's ok."
He added: "I think people are getting offended too easily. When you keep children off school for trivial reasons it damages them."
The council's campaign gives parents advice on "being more organised" the night before school and tells parents there is "no excuse" for absence.
'Persistent absence'
As the petition, set up by Ella Lewis of Seaford, gained more than 5,000 signatures it was debated by the council.
Ms Lewis told the meeting she was "outraged to see parents addressed in the tone of this campaign, with a total disregard to personal circumstance and a profound lack of respect".
Leader of the Liberal Democrat Group, Councillor David Tutt, appealed to councillors to "treat people as adults", adding: "We cannot treat parents in this disrespectful way."
But Conservative Councillor Nick Bennett said the campaign was never aimed at "responsible parents, vulnerable children or those with a long-term illness".
He said it was about "what is happening in some households where the children are not expected to go to school".
Liberal Democrat Councillor Kathryn Field said the campaign "set out with the best of intentions" but had offended many people and they needed to "repair the damage done".
But Conservative Councillor Gerard Fox said: "East Sussex has one of the worst overall attendance records in England... We have 7,000 children who are persistently absent in this county."