University of Sussex vice-chancellor gets £230,000 payout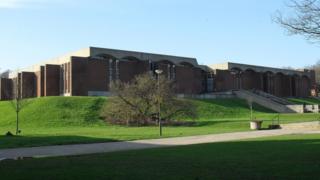 A university vice-chancellor was given a £230,000 departure payment in his final month in the job, figures show.
The amount paid to former University of Sussex vice-chancellor Prof Michael Farthing is shown in the institution's latest annual accounts.
The university said it was "open and transparent" about senior staff pay.
It comes a day after it was disclosed another university boss was handed more than £800,000 for her final year as vice-chancellor.
The financial statements were first reported by the Times Higher Education magazine.
They show that in total Prof Farthing was given a pay package worth £252,000 for the year August 2016 to August 2017. However, he only worked one month of that period, leaving the university at the end of August 2016 after nine years at the helm.
As well as £230,000 in lieu of notice, it also included employer pension contributions worth £3,000.
'Contractual obligations'
The previous year he had been paid £295,000, made up of a £230,000 salary, other taxable benefits making up £24,000 and a pension contribution of £41,000.
A University of Sussex spokeswoman said: "The university's approach to senior staff remuneration continues to be open and transparent, and we take our governance responsibilities and sector compliance requirements very seriously.
"In the case of our former vice-chancellor, we met our contractual obligations to him and this has been clearly published in our annual financial accounts."
University and College Union general secretary Sally Hunt said: "It is time universities stopped simply trying to defend the system and accept there must be radical change."
Prof Farthing's successor, Prof Adam Tickell, was paid £267,000 for the period September 2016 to July this year, plus £17,000 relocation costs and £9,000 in pension contributions.
The figures come at a time when vice-chancellors' pay is in the spotlight, with growing concern over spiralling salaries and Universities Minister Jo Johnson promising new regulations.