Woman 'very lucky' after Brighton dog saved in rough seas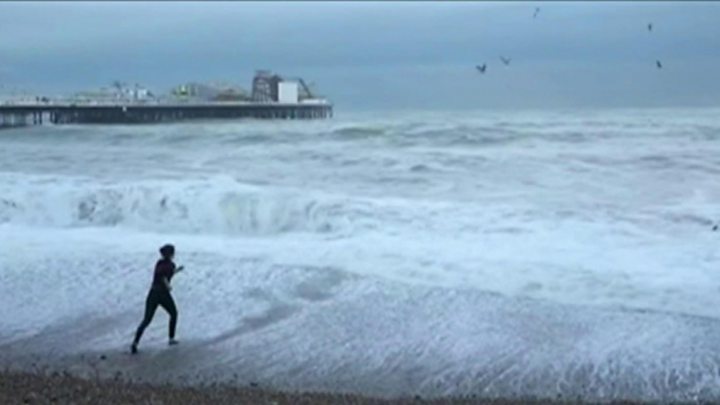 A woman has been described as "very lucky" after being washed off her feet in rough seas trying to rescue her dog.
She entered the sea close to the Palace Pier in Brighton to save her pet that went into the water on Sunday.
Alessandro Intini, 41, who filmed the woman, said: "It was a wall of water which took the girl off her feet."
Chris Ingall, of Brighton and Hove City Council, said the woman, who was helped by people with her as she escaped the waves, faced being pulled out to sea.
The dog was also pushed back onto the beach by the waves.
Mr Ingall, the council's seafront operations manager, said: "If she had been any deeper in, that wave would have come behind her, over the top of her, and pushed her down into deep water.
"Fortunately, the force of the water pushed her back up the beach, otherwise that could have been a very different outcome."
'Shocked and cold'
Mr Ingall said the pebble beach slopes very steeply and within a few steps those in the water could be out of their depth.
"In those sorts of conditions you're not going to be able to get to your dog."
In 2015, three people died after getting into difficulties in the sea close to the pier and an off-duty police officer died after being rescued off Brighton in February.
He said a dog would usually float and be pushed back to the shore by the waves. He advised dog owners to keep their pets on a lead while on the beach, especially in stormy conditions.
Mr Intini said the woman looked "very shocked and cold".
"Afterwards the family were all together. I was pleased that there was a happy ending," he added.