Sex-on-duty Sussex Police officer Alan Ward sacked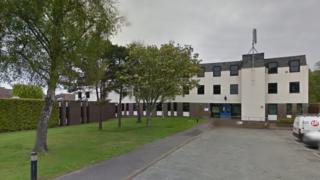 A police officer who admitted visiting women for sex during his night shifts has been sacked.
At a misconduct hearing Sgt Alan Ward, from Sussex Police, admitted meeting two women on 27 out of 56 shifts between January and September.
Chief Constable Giles York ruled he had breached professional standards and dismissed him without notice.
The 40-year-old, who joined the force in 2001 and was based in Bognor, was reported by colleagues, police said.
Officers from the professional standards department tracked the officer using the GPS on this police radio.
Following a tip-off about his absences, on 6 October officers found him at an address in Bognor Regis having sex with a woman while on duty.
Assistant Chief Constable Laurence Taylor said: "This officer's actions fell woefully short of the expectations of Sussex Police and the public he was meant to serve.
"I am pleased that our confidential reporting system, through which this was first reported, demonstrated that his colleagues were similarly as disappointed by his behaviour."
Matt Webb, from the Sussex Police Federation, said it had provided Sgt Ward with the representation he was entitled to, and it accepted the findings of the chief constable.