Tasered Brighton thief 'was danger to police and public'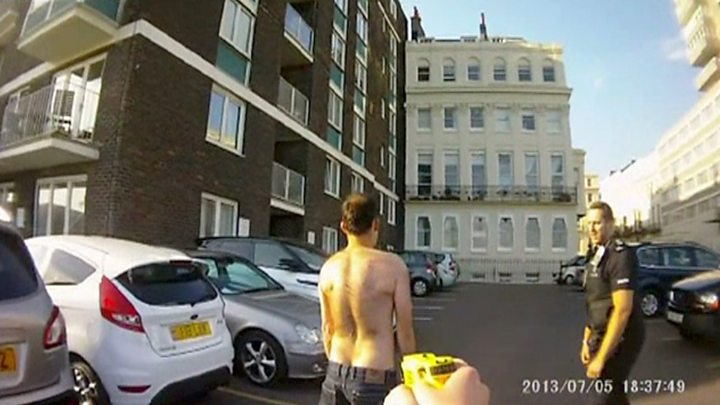 A man Tasered as he was being arrested for shoplifting was "a danger to police and the public", a court has heard.
Paul McClelland, 42, is suing Sussex Police claiming officers used excessive force while carrying out the arrest in a car park in Brighton.
In a civil case at Brighton County Court, force lawyers said Mr McClelland was drunk and aggressive, in July 2013.
Footage from a body-worn police camera has been released after a court order was obtained by BBC South East.
Live: More news from across the South East
Following his arrest, Mr McClelland pleaded guilty at Brighton Magistrates' Court in September 2013, to obstructing a police officer, common assault and theft, and was given a community service order.
Sophie Khan, Mr McClelland's solicitor advocate, said he was now bringing the case against Chief Constable Giles York because he believed he was Tasered unreasonably when he was surrendering and moving backwards to be handcuffed.
He is seeking damages from Sussex Police, saying the incident left him feeling anxious and suicidal.
The force has rejected the claim.
On Wednesday, the court heard final submissions in the case.
It was told that just before Mr McClelland was shot with the high voltage device he had stripped off his shirt and was challenging officers, shouting: "Come on."
Ian Clarke, counsel for Sussex Police, said: "All the officers who were at the scene formed the view that they were in danger, their colleagues were in danger and that the public were in danger.
"He was a danger, he wanted to fight, something had to be done."
Sussex Police said the use of force was proportionate.
His Honour Judge Simpkiss has reserved judgment in the case to a later date.