Star Wars subtitles row at Brighton Odeon cinema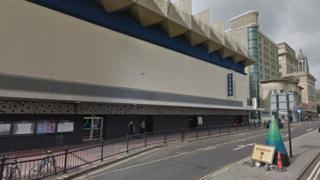 A group of deaf people said they had no choice but to leave a screening of the new Star Wars: The Last Jedi film after subtitles were turned off.
They had bought tickets for the Odeon cinema's subtitled screening on West Street in Brighton on Sunday.
Louise Drake told BBC News she complained after the film began with no captions.
Odeon Cinemas said a technical fault meant the film could not continue with captions, and offered refunds.
Ms Drake took her two 16-year-old daughters, who are both deaf, to the 18:00 GMT screening of Star Wars: The Last Jedi.
'I felt intimidated'
She told the Limping Chicken, a deaf news and blog website: "When the film started there were no subtitles, so myself and another man (whose brother is deaf) went to the desk to complain. The lady said she was sorting it out."
The film was restarted with subtitles, but some members of the audience complained about them. Ms Drake told the BBC.
"It was clearly advertised as being with subtitles, and the cinema said people could go to the next showing," she said.
"People were really rude. There was quite a negative reaction.
"I felt intimidated, and it's not often I feel like that."
The cinema staff said the film would then be shown without subtitles. Ms Drake and her daughters were among those who then left the screening.
"It's a recurrent theme, and it's wrong," she said.
Jo Campion, of the National Deaf Children's Society, said: "It's appalling that despite advertising and selling tickets to a subtitled performance, deaf viewers were completely unable to access this film.
"Watching and chatting about films is a big part of growing up. But the UK's 50,000 deaf children are often prevented from enjoying films in their local cinema.
"Sometimes it is as overt as having the subtitles switched off, but more often it's because subtitled showings are at inconvenient times, or many weeks after the film's initial release.
"We need to see cinemas committing to introduce on-demand subtitles so that deaf children and young people can see any film with subtitles at any time, along with their hearing friends. Anything less is unacceptable."
An Odeon spokeswoman said: "Unfortunately a technical fault prevented us showing Star Wars: The Last Jedi with subtitles on Sunday 17 December.
"Our team sincerely apologised to the guests affected, offering full refunds and passes to return on a date of their choice.
"We've now fixed the fault, and look forward to welcoming guests back through our doors soon."