Drug dealer Louis Makai threatened to kill officer in court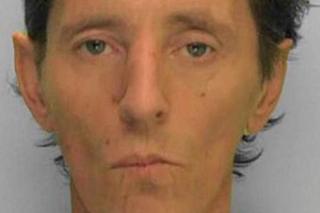 A court security breach in which a drug dealer pulled out a razor blade in the dock and threatened a police officer is being "urgently" investigated.
Louis Makai was handed an 18-year jail sentence on Tuesday for his part in a £12.5m drug dealing conspiracy.
Witnesses told how he pointed the blade at Det Sgt Julian Deans, the officer who helped to catch him, and said: "When I get out, I'll kill you."
The Ministry of Justice and security firm GeoAmey are investigating.
They are trying to establish how Makai 46, of Portslade, managed to get the weapon into Brighton Crown Court.
Slashed wrists
He was appearing for a retrial for offences in 2015, after undercover officers discovered his role in a chain which fed heroin from Liverpool to Brighton, Hove and Eastbourne.
Five other key players were put behind bars in May for a combined total of 67 years.
Det Sgt Deans, of Sussex Police, said "threats are, unfortunately, part of a police officer's job" but they would not deter him from continuing in his role.
Makai also slashed his own wrist with the blade while in the dock and was treated in court by paramedics.
GeoAmey, is responsible for secure prisoner transportation and brought Makai from HMP Lewes.
A company spokesman said: "There was no obligation on escort officers to search him. Nevertheless, GeoAmey searched the prisoner. However, the article was undetected by our officers".
Last month, two GeoAmey dock officers were sacked for falling asleep during the trial of Daryll Rowe, who deliberately infect men with HIV.
A Ministry of Justice spokeswoman said: "We closely monitor GeoAmey's performance to ensure their services remain of the highest standard.