Brighton & Hove Albion bans fans after match trouble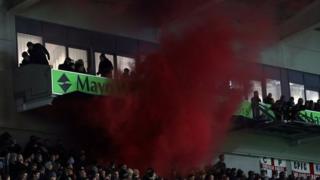 A further 12 football fans have been banned from Brighton & Hove Albion matches after disorder at a recent game against Crystal Palace.
Two stewards were taken to hospital after trouble broke out during the Premier League match at Brighton's Amex Stadium on 28 November.
Seven supporters from both clubs have already been banned, Brighton & Hove Albion Football Club (BHAFC) said.
The rival clubs meet again in the third round of the FA Cup.
It is hoped extra security at the Amex Stadium in Falmer and an increased police presence will prevent further trouble.
Away fans have also been allocated fewer tickets to control numbers.
Behaviour agreements
BHAFC said police have already successfully prosecuted seven supporters of both clubs for their part in November's disorder.
Twelve additional Albion fans have now been issued bans - excluding them from home and away matches until the end of the current season - after they were captured on CCTV "breaching stadium rules".
The club warned that further arrests and bans were possible and said a list of names and footage had been provided to Crystal Palace.
BHAFC chief executive Paul Barber said: "Unfortunately, a small minority let themselves and their clubs down.
"We hope this news will come as a timely warning that we will not tolerate antisocial behaviour from our supporters - at the Amex or when travelling to and from matches - and anyone caught doing so will face arrest, prosecution and lengthy bans."
He said all the banned fans would be required to sign "behaviour agreements" before being allowed back into matches when their bans expire.