Beachy Head cliff visitors 'shocked' by rock fall photos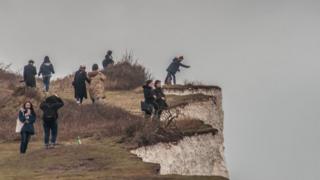 A photographer says people walking on the edge of dangerous chalk cliffs are "shocked" when he shows them pictures of recent rock falls.
David Burr regularly takes photos of people on the cliffs between Beachy Head and Birling Gap in East Sussex.
He described warning signs as "inappropriate" and said they "don't stand out".
He said: "If something isn't done, someone who isn't aware of the dangers is going to go over the edge."
He says he often sees people on the cliff edge as he takes photographs in the area.
"If they are close enough I talk to them, and tell them about the dangers.
"Generally they are very, very shocked," Mr Burr said.
The National Trust said: "It can be extremely dangerous to stand near the cliff edge and we advise visitors to act sensibly when visiting the area."
In November, ferry company DFDS was forced to apologise after posting a promotional image of a man standing on the edge of cliffs where a student fell to her death.
In June Hyewon Kim fell 200ft (60m) while posing for a photograph at the cliffs.
A spokesman for Lewes District Council said: "Members of the public should always take notice of warning signs and stay a safe distance away from the cliff edge and away from the cliff face when on the beach beneath.
"Sea cliffs are dynamic, they experience erosion constantly from the sea and the weather, consequently they are always changing.
"At some locations there are overhangs or faults in the cliffs that cannot be seen or gauged easily from the cliff tops."