East Sussex council tax to rise after budget approved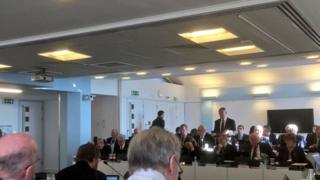 Residents in East Sussex will be paying 5.99% more on their council tax in the next financial year as the county council makes savings and cuts of £17m.
Frontline services are due to be cut after the councillors approved the budget for 2018-19.
Opposition groups had urged the ruling Conservatives not to axe funding for the Stroke Association.
It receives £80,000 a year to help fund six stroke co-ordinators who give care and support to those affected.
Live: More news from across the South East
Councillor Carl Maynard, lead member for adult social care and health, said there would be a public consultation.
The council tax increase includes the government agreed 3% adult social care levy.
A council tax rise above 3% should require a referendum but rules allow an extra 3% precept for social care.
Labour, the Liberal Democrats and independent groups also tabled amendments to the budget including seeking a reversal in the proposed closure of two rehabilitation nursing homes providing intermediate care in Eastbourne, saving £1.2m.
Milton Grange and Firwood House both care for adults over the age of 65.
Mr Maynard told the full council meeting that it was possible a public consultation would find a way of delivering the homes for "less cost", and closure was not inevitable.
At Tuesday's full council meeting, leader Keith Glazier argued that the council's financial situation was so grave that it would not be possible to reverse cuts.
Councillor David Elkin, who is responsible for finances, said its priority was still to protect "vulnerable people".
With a majority on the council, the Conservatives were able to pass their budget without any amendments.