Man swims across River Ouse to avoid capture by police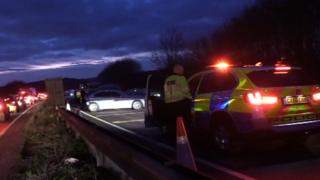 A man was arrested after swimming across a freezing river after fleeing from an eight-vehicle collision.
He was one of three men who ran from a car, which had been reported stolen, after it crashed near the Southerham roundabout on the A27 in Lewes.
The Mercedes was being pursued by Sussex Police after it was earlier seen speeding on the A23 on Wednesday.
The man swam across the River Ouse but was picked up by police as he emerged on the opposite bank.
He was taken to hospital under arrest, along with another of the car's occupants who suffered an arm injury in the collision.
The driver of another vehicle involved in the collision sustained a suspected broken collarbone and was also taken to the Royal Sussex County Hospital in Brighton.
The pursuit had started on the A23 just north of Pyecombe, before the car turned on to the A27.
It rammed a police car at the A23/A27 interchange before continuing on towards the eastern end of the Lewes by-pass where it crashed just after 16:00 GMT, damaging a number of other vehicles .