Inquiry starts over woman's pacemaker emergency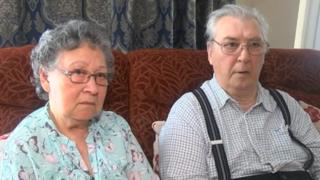 NHS bosses in East Sussex have launched an investigation after an 83-year-old woman needed emergency open-heart surgery when a routine operation went wrong.
Doris Pyett had a pacemaker fitted, but was in agony two weeks later.
She had suffered a punctured lung. Her husband Peter said the hospital was unapologetic.
The East Sussex Healthcare NHS Trust confirmed it was investigating the cause of the complication.
Mrs Pyett has been left with scarring and mobility issues because of the pain from her operations.
It has made life more difficult for the couple, as Mr Pyett has Parkinson's disease.
On 16 November Mrs Pyett had a pacemaker fitted at Eastbourne District Hospital.
On 2 December she was taken into intensive care for open-heart surgery at Conquest Hospital in Hastings.
Ten days later she had to travel to the Royal Sussex County Hospital in Brighton to have a new pacemaker fitted.
Mr Pyett, from Bexhill, said: "The [doctor] asked, 'MrPyett, would you like to sign this consent form?' I asked what for, and they said 'not to resuscitate'.
"That's when it hit me, right between the eyes. My son looked at me and said 'no, no'."
He said they have had no aftercare, other than a recommendation to buy some paracetamol.
Director of cardiology at the trust, Professor Nikhil Patel, said Mrs Pyett was "unlucky".
"Mrs Pyett has been spoken to and we've apologised for the experiences she's had. The procedure itself was straightforward and routine and went well.
"These complications do occur, and the pacemaker wire in this case had crossed the heart and moved towards the lung," he said.
A full report on the complications is being drawn up by the trust.