West Sussex fracking protester guilty of oil rig delay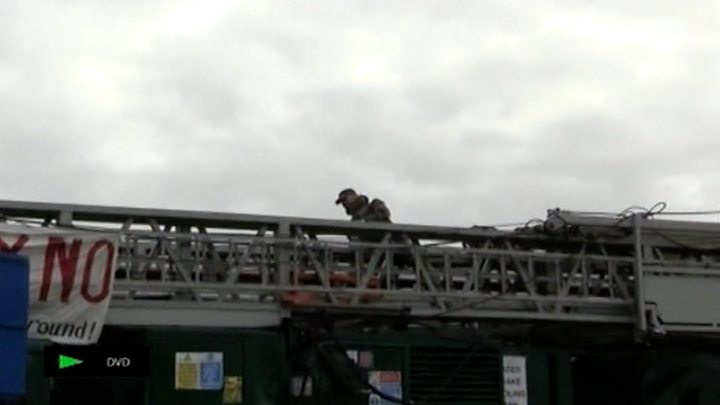 A fracking protester has been found guilty of offences relating to a 10-hour demonstration atop a drilling rig which was parked at a service station.
Dr Peter Whittick, 53, from Crawley, in West Sussex, climbed the machine at Pease Pottage services on the M23 in a bid to delay test drilling.
It was parked overnight while being transferred between test sites.
He was given a conditional discharge and ordered to pay £105 costs at Brighton Magistrates' Court.
Live: More news from across the South East
Following a one-day trial, Dr Whittick was found guilty of "hindering a person from driving on their onward journey".
The rig was being moved from the UK Oil and Gas test site near Billingshurst to the Angus Energy site at Lidsey near Bognor Regis.
Dr Whittick was spotted on top of the machinery at 02:30 on 7 September.
He had claimed the movement of the rig was in breach of West Sussex County Council's operating permits.
Sentencing him, District Judge Christopher James said: "You're a genuine protester with deep-seated views but you crossed the line."
Dr Whittick later said: "I take comfort from the fact that I feel that I've done the right thing to raise awareness about the planned industrialisation of the Weald by oil and gas companies, and I will continue to do the right thing in the future."