Burleys Wood ancient woodland 'devastated'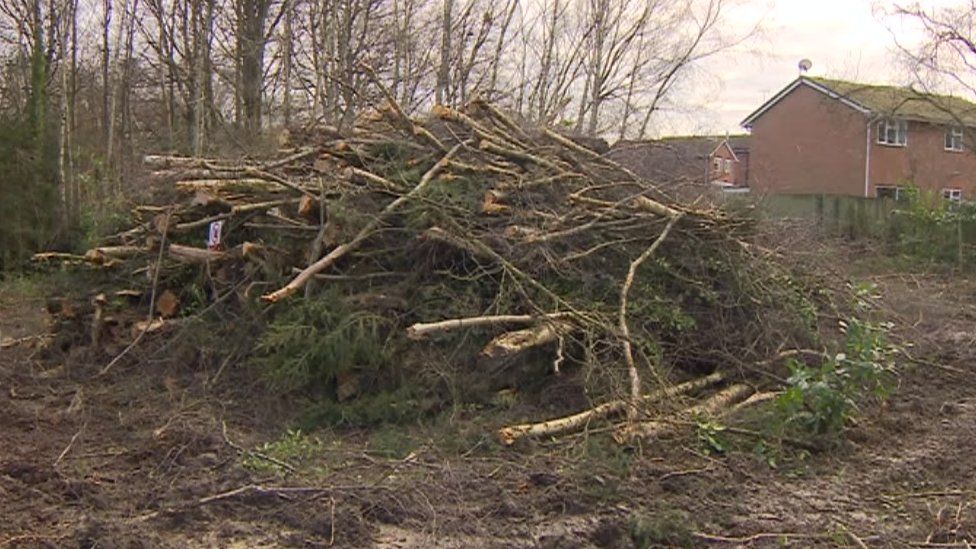 The Forestry Commission is investigating after an area of ancient woodland was wrecked by contractors, turning it into a muddy wasteland.
None of the trees felled at Burleys Wood was covered by preservation orders (TPO), although Crawley Borough Council has now protected those left.
But Forestry Commission inspectors are now assessing the damage to determine whether the action was illegal.
Landowner 3242 Investments Ltd has not responded to requests for a comment.
The council says a "significant number" of trees were felled without permission before it was informed.
It ordered the contractor working for 3242 to stop immediately - which it did - and has issued the TPOs to prevent further work being carried out.
People whose homes overlooked the tranquil woodland, at Pound Hill, are angry at the landowner's action.
May Bound said: "We haven't been able to hear the owls, so there's already been an immediate effect. And we can hear the traffic now.
"It's really sad. We're devastated by it."
A neighbour, Paul Schauerman, said: "It was a nice place to be, and [one] morning it ceased to be."
Crawley Council said an outline planning application for five houses on the site had now been received.
One of its councillors, Bob Lanzer, said: "The way people have gone about this so far - this sense of surprise, violating people's peace and quiet, no consultation with residents... will weigh heavily in the minds of the decision-makers."
Related Internet Links
The BBC is not responsible for the content of external sites.