Grand Canyon crash: Father pays tribute to dead sons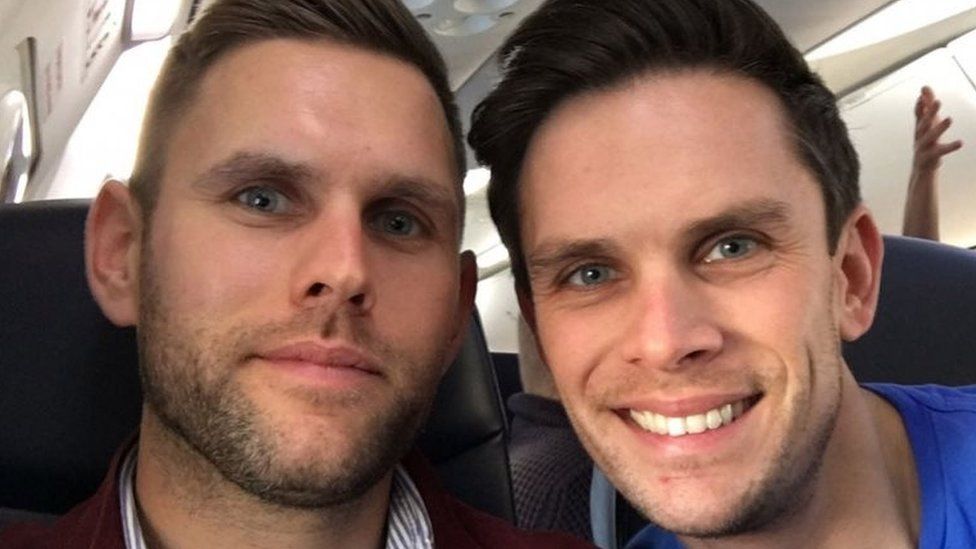 A father who lost two sons in a helicopter crash in the Grand Canyon has paid tribute to them as a memorial service was held in their home town.
Stuart Hill, 30, died alongside his girlfriend Becky Dobson, 27, and his brother Jason, 32, on Saturday.
Prayers were said in Worthing, West Sussex, for those who died and four survivors - three other passengers and the pilot.
The Reverend David Hill said everything was "incredibly raw".
He said he was not only father to the two men, but might also have been a father-in-law to Ms Dobson one day.
She was on holiday with the two brothers to celebrate her boyfriend's 30th birthday.
Mr Hill said: "These are three people deeply in our compassion, our love."
Passengers Ellie Milward, 29, Jonathan Udall, 32, Jennifer Barham, 39, are still being treated for critical injuries and pilot Scott Booth, 42, was also injured.
Mr Udall and Ms Milward were on their honeymoon at the time, according to a JustGiving page set up for them.
Mr Hill said: "There's also three people over in America and we're thinking of them especially as they'll be thinking of us."
The service was held at St Matthew's Church, where Mr Hill is a Baptist minister on its preaching team.
He said: "I'm bowled over by the number of people who are here tonight and I say to anyone who's listening remember to give your children a hug tonight.
"If you forget everything else, tell them you love them, even if at times you wonder, because the greatest thing that my children ever gave to me was love."
The Rev Sara-Jane Stevens, who led the service, remembered the brothers as "loving and full of mischief".
At the scene: BBC South East reporter Lucy Vladev
Hundreds of people came to St Matthew's to mourn the loss of three deeply-loved young people.
The deaths have reached the very core of this community.
For many, the service offered them a way to share their grief during their most desperate time.
The reverend who led the memorial held two services back to back because of the number of people who wanted to be there.
The Airbus EC130 B4 crashed just before sunset.
The cause of the crash is being investigated by the National Transportation Safety Board.
Preliminary findings released by Mohave County Medical Examiner's Office said the three, who were all from Worthing, died from multiple injuries.
Full post-mortem reports may take up to six weeks.
Related Internet Links
The BBC is not responsible for the content of external sites.