West Sussex council tax rise amid £19.4m savings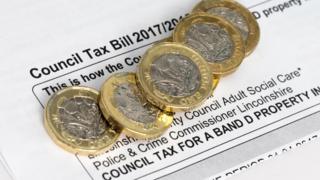 Council tax in West Sussex will rise by nearly 5% amid £19.4m of savings after next year's budget was approved.
With a large majority on the council, the Conservatives passed the measures with relative ease on Friday, despite three Tory councillors abstaining.
Council leader Louise Goldsmith said the budget would help it "adapt and change" in the face of an uncertain financial future for local government.
The government's approach to funding was "fit for the past", she said.
Many of the savings are to be found through redesigning services rather than cutting them but there will be some outright cuts.
'Whingeing to government'
About £250,000 is to be saved by cutting the subsidies to unprofitable bus routes, while £750,000 will be saved by passing the cost of the apprenticeship levy on to the county's schools.
This proved controversial with the opposition parties, which accused the Conservatives of "whingeing" to government about schools funding, while failing to do all they could to aid the county's schools with their own budget decisions.
Both Labour and the Liberal Democrats also criticised the Tories' decision to opt for a 4.95% council tax rise, instead of the 6% they are entitled to.
The opposition said this was needlessly depriving services of the funding they needed.
Most of these savings measures had already been agreed at a separate meeting in December.