Award-winning Hastings pier for sale after charity folds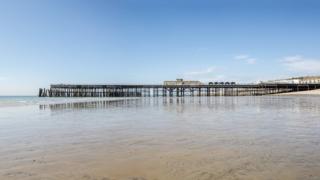 A pier transformed into an architectural prize-winner after being ravaged by fire is being sold.
Hastings Pier which originally opened in 1872 was almost completely destroyed in a fire in 2010.
Heritage Lottery Funding saw the Grade II listed pier rebuilt but the charity running it went bust last year.
Administrators tasked real estate company GVA with finding a buyer for the freehold. A spokesman for the firm said they are considering all offers.
Richard Baldwin of GVA said: "Hastings Pier has undergone a remarkable transformation.
"The pier is unique, and offers a custodian the opportunity to acquire a piece of Britain's seaside heritage, with great potential as a leisure destination."
Peter Chowney, leader of Hastings Borough Council, said: "I'm concerned any company, any individual or organisation buying it would need to respect the 'people's pier' principle.
"We wouldn't want to see it over commercialised, but everyone recognises it has to make money."
The 280m (919ft) long pier was restored and reopened to the public in April 2016.
In 2017 it won the RIBA Stirling Prize for architecture.
Just a month later the Hastings Pier Charity confirmed it had failed to raise enough money for the pier to reach self-funding status, at which point Adam Stephens and Finbarr O'Connell of Smith & Williamson took over running the site.
The owner of Eastbourne Pier Sheikh Abid Gulzar has expressed an interest in buying the attraction but said: "If someone else buys it I will support them."