'My pronouns' gender ID badges for Brighton council staff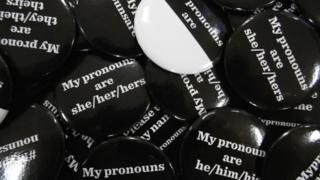 Badges for people to choose and display their preferred gender pronoun, such as 'he' or 'she', are being rolled out.
Brighton & Hove City Council staff and partners are launching a city wide campaign #MyPronounsAre to mark Trans Day of Visibility on 30 March.
Councillor Emma Daniel said: "We define our own gender and we should respect other people's identities and rights."
Some badges also say "please use my name" while others are left blank for users to fill in themselves.
'Read the badge'
The campaign has been created with support and input from local LGBT+ community groups - including the Clare Project and Trans Alliance, the council's LGBT Workers Forum, local NHS trusts, the University of Brighton and Sussex Police.
The badges are being sent out to all organisations, and will be available to members of the public during the week starting 26 March.
Ms Daniel, chair of the neighbourhoods, inclusion, communities and equality committee, added: "Now there is more freedom and safety to be ourselves. But there's still more to do.
"Who a person is may not match what you expect and may not be defined easily. If someone's pronouns differ from what you assume, it's for you to adapt and it's OK to ask.
"We're proud of being a diverse city, and the council is committed to equality and inclusion for all people including our trans and non-binary residents.
"Read the badge, respect people, it's that easy."