Rother woman rehoused in cockroach-infested hotel room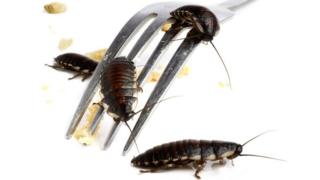 A homeless woman was put in a "squalid" hotel room infested by bedbugs and cockroaches and with a toilet "caked in faeces", a watchdog has found.
The 68-year-old woman from East Sussex was moved 14 miles away by Rother District Council, which said it had nowhere for her to live.
The Local Government and Social Care Ombudsman said her complaints about the temporary accommodation were ignored.
The council has offered her an apology and compensation.
'Squalid, filthy, damp'
The ombudsman said the woman, who was in poor health, told the council she was being evicted from her home in March 2016.
But contrary to government guidance, it recommended she stay put until she was evicted, leaving her with a £350 court bill.
She was then temporarily housed in an Eastbourne hotel, away from her GP and support network, but she complained immediately, saying the room was "squalid, filthy and damp" and infested with bedbugs and cockroaches, and the toilet was "caked in faeces".
The council failed to tell her she had a right to appeal against the move, the ombudsman said.
The hotel told the council she had swapped rooms with her son, which she denied, and her housing benefit was stopped because she failed to fill in a change-of-address form.
"She was never given the opportunity to dispute her situation at a tribunal, and was left with an invoice of around £1,000," the watchdog said.
The ombudsman has recommended the council apologises, pays her compensation of £1,250, and settles her costs, as well as improving its housing service.
A council spokesman said: "Residents have the right to expect the highest possible level of service from us and unfortunately in this case that didn't happen."
The council said it was reviewing procedures to ensure clients were aware of their rights of appeal.