St Leonards death crash driver had brain surgery months earlier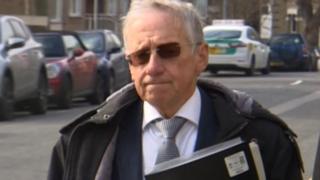 A man accused of causing the death of a boy aged 11 in a crash should not have been driving, jurors have heard.
Richard Stemler denies causing death by dangerous driving at Hove Crown Court.
Harley Simpson, from St Leonards, Sussex, died in November 2016 after the crash which happened on 22 October as he walked from home to rugby practice.
The court heard Mr Stemler, 70, had undergone brain surgery in Spain to remove a benign tumour about five months previously.
Prosecuting, Edward Hand said: "The prosecution case is that by driving in the UK after his surgery he was doing so dangerously.
"There is agreed medical evidence that as a result of his surgery he was susceptible to seizures causing him to black out without warning and should not have been driving.
He said medical experts for the prosecution and defence would give evidence about Mr Stemler's post-surgical condition, during the trial.
'Thrown down road'
The court heard the crash happened at about 13:00 GMT while Harley was with friends.
Jurors heard he had crossed halfway over the A259 and was on a pedestrian island in the middle of the carriageway, waiting for traffic to pass.
"The defendant's vehicle collided with the island, uplifted a sign post and collided with Harley. He was thrown some way down the road," Mr Hand said.
Jurors heard Mr Stemler, formerly of Wishing Tree Road, St Leonards, but now of Ethelburt Avenue, Southampton, was interviewed by police twice and on both occasions did not mention his surgery in Spain.
"The prosecution says this demonstrates that he knew he should have reported his medical treatment and should not have been driving," Mr Hand said.
The case continues.